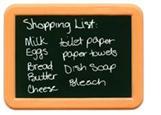 Demo Grocery List
This is an example of the Grocery List Application that will be available to you when you register with OneScanGrocer. It will allow you to sort your items by the different categories, Update the item quantity, and Search your grocery list to find a specific item.You must type atleast 3 characters to search your list.

There are 2 different ways to create your weekly grocery lists. You can purchase the Symbol CS1504 or manually create the grocery list.


1. Click the "Sample List" button to download your demo list items.
2. Once the list is populated, the item quantity can be updated by double clicking the Qty Field.
3. All buttons are available in the full version, click here to create your account!
4. Save Time and Create your weekly grocery list online!
GENERAL MILLS, INC. RECKITT BENCKISER, INC. SWEET BABY RAYS INC. KRAFT FOODS, INC. PACE FOODS, INC. GENERAL MILLS, INC. KRAFT FOODS, INC. KRAFT FOODS, INC. NESTLE USA PROCTER GAMBLE COMPANY PROCTER GAMBLE COMPANY UTZ QUALITY FOODS, INC. GENERAL MILLS, INC. GENERAL MILLS, INC. KELLOGG COMPANY S.C. JOHNSON SON, INC. FOOD TOWN STORES INC. HEINZ FROZEN FOOD COMPANY NEW YORK FROZEN FOODS INC. NABISCO BISCUIT COMPANY PEPSI-COLA NORTH AMERICA INC. NEW WORLD PASTA COMPANY DOLE FRESH VEGETABLES THE MINUTE MAID COMPANY B D ENTERPRISES